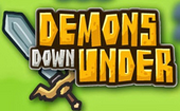 Demons Down Under is a fun room-to-room action game. In the game you have to find items, collect money to upgrade weapons, and dive deeper and deeper into underground dungeons, all while saving your allies. The game features nine weapons, 30 items, 6 environments and 11 demon types. Have fun!
Add Demons Down Under to your website / blog
x - close
Note: this needs to be inserted as HTML code. If you are not sure how to do this, please contact us and we will assist you!
Website / Blog
<div class="crazyGamesComGame"><div class="cgContainer" id="demons-down-under_800_600">[Here comes the game]</div><a class="cgLink" href="http://www.crazygames.com/?utm_source=under_game&utm_medium=demons-down-under&utm_campaign=addthistoyourwebsite"target="_blank">Original</a></div><script src="http://img.crazygames.com/add-widget/add.js" type="text/javascript"></script>
Tumblr
<p class="crazyGamesComGame"><span class="cgContainer" id="demons-down-under_800_600">[Here comes the game]</span><br /><a class="cgLink" href="http://www.crazygames.com/?utm_source=under_game&utm_medium=demons-down-under&utm_campaign=addthistoyourwebsite"target="_blank">Original</a></p><script src="http://img.crazygames.com/add-widget/add.js" type="text/javascript"></script>