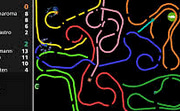 Use your computer to play Achtung Die Kurve - Curve Fever. Or try one of the games below!
Achtung Die Kurve - Curve Fever
Achtung Die Kurve, also known as Curve Fever, is a multiplayer game based on Snake. It lets up to 6 people play on 1 keyboard. Each player only needs 2 keys to control his / her snake. It is also possible to just play by yourself against the computer.
The goal of the game is to make your snake as long as possible. Don't touch your opponents or the walls; you will die. Collect power-ups to slow down time or become untouchable. Think about your strategy, it's probably a smart idea to try to encircle your opponents or trap them into a corner. Enjoy!
UPDATE:
If this game isn't working, try
Achtung Die Kurve 2 / Curve Fever 2
or
CurveFever.io
, the .io version of this classic multiplayer game.
Controls
You can set your own controls to move left and right. Press space bar to start game or pause.
More Games In This Series