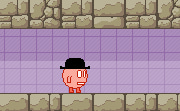 Use your computer to play You Have To Burn The Rope. Or try one of the games below!
You Have To Burn The Rope
Guess what... You have to burn the rope. That's the point of this satirical platform game by Kian Bashiri (Mazapan). Don't expect a long and intense trail – the instructions could not be any clearer or straight to the point. You control a character, and you must defeat the huge Grinning Colossus boss – the only way you can defeat him is to burn the rope that holds the great chandelier above his head.