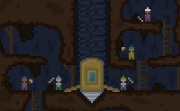 Use your computer to play The Depths Idle. Or try one of the games below!
The Depths Idle is an addictive and fun idle mining game. The aim is to mine as many resources as quickly and efficiently as possible using your team of dedicated miners and then turn these resources into gold! Before you can start mining you must first drill down through the surface. You can upgrade your drill in the drill tab so it progresses deeper and reaches more valuable resources. Once you have drilled, you can employ miners to collect resources - using the mining tab you can hire more workers and improve their collection rate.
Controls
Use left mouse button to play.