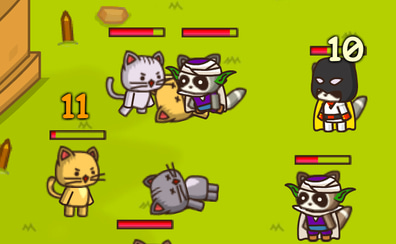 Use your computer to play StrikeForce Kitty Last Stand. Or try one of the games below!
StrikeForce Kitty Last Stand
After
StrikeForce Kitty
and
StrikeForce Kitty 2
, our favorite kitty is back for a new epic adventure! King Fox has ambushed us, and an army is striking at the very center of our beloved cat kingdom. The ranks of the attacking army are bolstered by powerful and evil raccoon mercenaries. In StrikeForce Kitty Last Stand you have to fight off waves and waves of attacking enemies. Lead the defense of the Great Kittycastle and become a true hero.
Controls
Click repeatedly during a battle to increase your attack speed.
Earn fish and use it to buy army and castle upgrades.
Collect outfits and use them to improve your special abilities.
The kitten army will defend against the fox guards automatically.

More Games In This Series