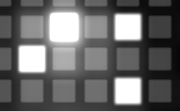 Use your computer to play Matrix. Or try one of the games below!
Matrix is a fascinating and fun game of music creation. If you love music and creating beats and tunes from nothing, this is the perfect game for you! You are presented with a 16x16 grid of sounds - each sound has a different tone, and time spacing. You must use these sounds to create music.
Controls
Left click to activate or deactive a square.