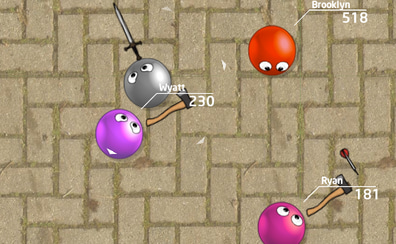 Use your computer to play Balloons.io. Or try one of the games below!
Balloons.io is a casual arena game in which you need to pop other balloons. In the beginning, you are armed with just a knife. Collect coins to upgrade your weapon; the more coins you have, the stronger your weapon. To pop others, simply touch them with your weapon, but be careful with their weapon too! Use your gold to boost your speed to catch other balloons faster. The other balloons are controlled by an AI, and you can compete globally with your score.
Controls
Use your mouse to change your move direction and left click to boost your speed.