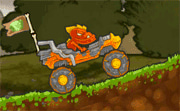 Use your computer to play Truck Monsters. Or try one of the games below!
Monster Truck racing with a difference - you are the monster, and you like to break things! Race loads of different creatures over 4 different worlds, each increasing in difficulty. SLAM your truck on to breakable scenery to give yourself turbo boosts. Perform stunts in-air to increase nitro effeciveness.
Use UP or W for gas, X or M to jump/slam, and Z or N to spin.