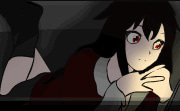 Use your computer to play Alula Falling 3. Or try one of the games below!
This is the third episode of this Anime RPG. Alula finds a mysterious app on her phone, and soon discovers its true meaning and capability. Have fun with Alula Falling 3!
Use your mouse to progress through the story, and to navigate the RPG turn based battle system.
More Games In This Series