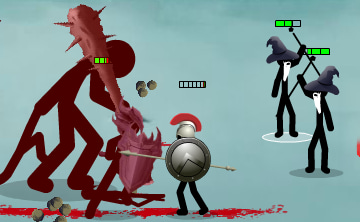 Use your computer to play Stick Empires. Or try one of the games below!
Stick Empires is an awesome strategy war game. Choose from 3 available forces of stickmen and challenge players around the world in 1 on 1 matches. You can play a normal match or death-match which will give more starting resources. The objective of this game is to destroy the enemy's statue while defending your own. Use your workers to gather resources that can be used to train war units and upgrade towers or abilities. Tip: it's best to gather enough resources first and train large units before attacking the enemy. Various units can be built. Do so strategically and win!
Controls
Use the left mouse button to choose actions and use the right mouse button to move units.