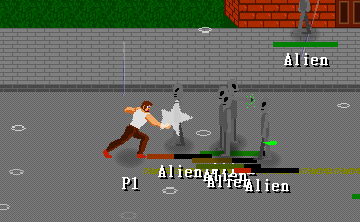 Use your computer to play Royal City Clashers 3. Or try one of the games below!
Royal City Clashers 3 is the next epic title from the bloodthirsty and retro
Royal City Clashers
series. Trouble in Royal City never ends – this city is full of violence, lawbreaking and unruly behaviour and it is your job to try and bring order to the streets and eliminate various enemies, thugs and aliens! Use the WASD keys to move your character, and us the Space bar or B button to perform attacks.
Player 1 controls
WASD to move
Space bar or B to attack
V to run
N to drop weapon
QE to swap weapon
Player 2 controls
Arrow keys to move to move
Numpad 0 and 2 to attack
Numpad 1 to run
Numpad 3 to drop weapon
Numpad 4 and 6 to swap weapon
More Games In This Series