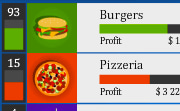 Use your computer to play Business Simulator. Or try one of the games below!
In Business Simulator you are an aspiring businessman who started his business selling burgers. You are young, ambitious, and determined to become really rich. Start by selling burgers, buy upgrades, hire managers, and collect stars. Good luck!
Controls
Use your mouse to play.