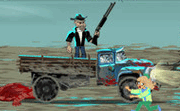 Zombie Truck 2





Escape from the zombies and save some civilians along the way. Drive and upgrade the truck that is your only opportunity to survive. WASD to drive, mouse to aim and shoot.
Add Zombie Truck 2 to your website / blog
x - close
Note: this needs to be inserted as HTML code. If you are not sure how to do this, please contact us and we will assist you!