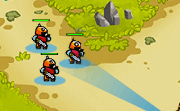 Use your computer to play Ultimate Tower. Or try one of the games below!
The king has died, and the orcs are moving to our borders. In addition, general Arok was wounded badly in an ambush last night. In Ultimate tower, you will have to lead the army yourself. Prepare for battle!
Click and drag to assign troop rally points and set traps along walkable paths. Click and drag to scroll around. Zoom in and out with the mouse wheel. Select tower sections with the mouse or with the hotkeys (1-5). You can repair your tower by clicking and holding the tower base repair button. Click the skill orbs icons to activate them.