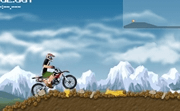 Hop on your dirt bike and drive through the mountains while performing huge jumps and riding over rough terrain.
Drive with arrow keys.
1022
likes,
162
dislikes.
Add Solid Rider to your website / blog
x - close
Note: this needs to be inserted as HTML code. If you are not sure how to do this, please contact us and we will assist you!
Website / Blog
<div class="crazyGamesComGame"><div class="cgContainer" id="solid-rider_640_420">[Here comes the game]</div><a class="cgLink" href="http://www.crazygames.com/?utm_source=under_game&utm_medium=solid-rider&utm_campaign=addthistoyourwebsite"target="_blank">Source: CrazyGames.com</a></div><script src="http://img.crazygames.com/add-widget/add.js" type="text/javascript"></script>
Tumblr
<p class="crazyGamesComGame"><span class="cgContainer" id="solid-rider_640_420">[Here comes the game]</span><br /><a class="cgLink" href="http://www.crazygames.com/?utm_source=under_game&utm_medium=solid-rider&utm_campaign=addthistoyourwebsite"target="_blank">Source: CrazyGames.com</a></p><script src="http://img.crazygames.com/add-widget/add.js" type="text/javascript"></script>