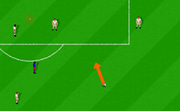 Use your computer to play New Star Soccer. Or try one of the games below!
Do you want to become the next soccer star? Start a career in a lower division and work your way to the top. Train skills, buy shoes, maintain the relationship with the boss, team and fans, make your girlfriend happy and most of all, win matches!
Use your mouse to play this game.