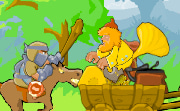 Use your computer to play Highwayman. Or try one of the games below!
In Highwayman you have to attack the drivers and steal all the gold that they carry. With this gold you can upgrade your abilities, purchase helpers and keep going further and further. It also involves battles! Be careful not to fight opponents that are stronger than you...
Use mouse to attack and upgrade. Press spacebar to activate all the abilities.