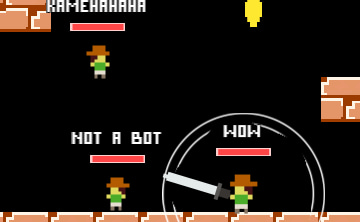 Use your computer to play Trapz.io. Or try one of the games below!
Trapz.io is a fun and intense multiplayer io game in which you must attempt to slay other players whilst avoiding the various dangerous obstacles and traps on the map. This game is based on the popular
Trap Adventure 2
platform game and uses much of the same graphics, music and gameplay elements. You control a character who has an immense sword – you must use this sword to destroy everyone around you!
Controls
AD to move
W or space bar to jump
Left click to attack