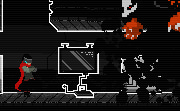 Use your computer to play Super Shogun Ninja. Or try one of the games below!
Once upon a time there was a family who lost everything. All that was left was vengeance. In Super Shogun Ninja you have to help the family in its quest for vengeance. Reach as many floors as you can while taking down enemies. At the end the final boss is waiting for you. Can you reach, fight, and conquer him? Find out in Super Shogun Ninja... Once you've done so, you might be ready to enter the
dojo of death
.
Arrow keys to move around, A button for weapon, S button to throw shurikens (ninja stars).