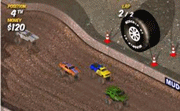 Offroaders





Race on 10 different tracks and win cash to unlock other cars.
Drive with arrow keys, use spacebar for a boost, use C or N for handbrake.
Add Offroaders to your website / blog
x - close
Note: this needs to be inserted as HTML code. If you are not sure how to do this, please contact us and we will assist you!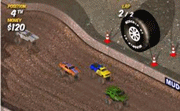 Offroaders Walkthrough
Offroaders is an online driving game which you can play for free here at CrazyGames.
It has tags 3d, 4x4, monster truck, truck, and upgrade. It has been played 151472 times and has been rated
8.6 / 10 (from 2698 ratings)
. Offroaders is one of the many
driving games
that we feature. If you want to play more games, check out
Offroaders 2
or
Truck Monsters
. To play even more games, head over to the
3d games
page, the
4x4 games
page, the
monster truck games
page, or just check out the
all time best games
page. If you need some help you can check out the
Offroaders Walkthrough
.
More »
If the game is not working, please let us know by clicking here.