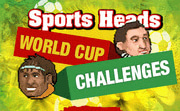 Use your computer to play Sports Heads Soccer World Cup. Or try one of the games below!
Sports Heads Soccer World Cup
The Sports Heads have made their way to the
2014 World Cup
in Brazil. Choose your favorite player (or, in fact, a cartoonized version of him) and complete in the many matches. Can you finish all 12 levels?
Use the arrow keys to move. Jump with the up arrow key and kick with the space bar. Hitting power ups with the ball will affect the game in various ways, such as a speed boost or decrease, bombs, or even streakers on the field!
More Games In This Series