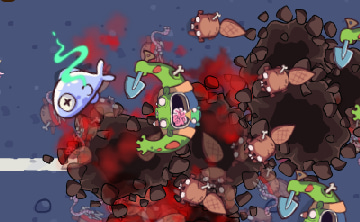 Use your computer to play Zomburger 2: Market Revenge. Or try one of the games below!
Zomburger 2: Market Revenge
Zomburger 2 - Market Revenge is the sequel to the popular Zomburger title. 30 days have transpired since the first outbreak and the zombies are ravenously hungry and still crave food. As luck would have it, they have found a flyer advertising a mysterious burger land that can supply all the food they require! As the owner of a burger restaurant, you must stop the zombie at all costs and protect your investment!
Controls
Drag left mouse butto to throw a weapon.