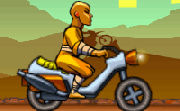 Use your computer to play Crazycle. Or try one of the games below!
Choose your favorite rider and get ready to take to the tracks. In each level you are given a set of missions to complete. Perform some sick tricks in the air and on the ground to earn nitro. Use the prize money that you win to upgrade your ride so that you can compete! Good luck with Crazycle.
Arrow keys to ride. Press and hold C while riding to perform a ground trick.