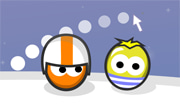 Use your computer to play Pyjama Jump. Or try one of the games below!
Pyjama Jump is a great game created by Martijn Kunst, the developer of Raft Wars. Set a trajectory and try to reach the red landing pad before your competitors do.
Use your mouse to set your trajectory and hold left mouse button to follow it.