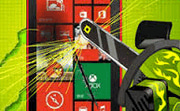 Use your computer to play Whack My Phone. Or try one of the games below!
Ever wondered what it would feel like to destroy your Smartphone?
We all know the feeling of immense frustration when our Smartphone messes up. When we are playing a game and the battery suddenly decides to die, or when we miss-type a word in a text message 7 times in a row. The anger steadily builds up and we find ourselves wishing we could bring down untold destruction on our beloved mobile phones. Well, with Whack my Phone, this is exactly what you can do!
More Games In This Series