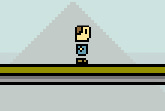 Use your computer to play The Platform. Or try one of the games below!
The Platform is a brand new 2 player game. You have to stay alive on a platform filled with various moving deadly obstacles for as long as possible. To do this you will need to jump over sharp blades, dodge falling meteors and many other dangers. On the way, pick up coins to get upgrades! Don't forget to use the slow motion mode.
Arrow keys or WASD to move, jump and duck. F or spacebar to use slow motion.