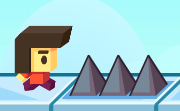 Use your computer to play Super Little Jogger. Or try one of the games below!
Super Little Jogger is an endless running game in which you must race through a series of obstacles and traps and avoid getting squashed! You control a young boy who wants to prove himself and show off his jogging skills - your character automatically runs and you must stop him at crucial points to avoid being squashed or falling down holes.
Controls
Hold left mouse button to stop.