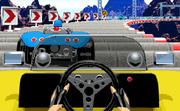 Use your computer to play Roller Rider. Or try one of the games below!
In Roller Rider you are racing high above the ground. Take your hands of the wheel and wave them in the air (using the Z key) to gain turbo.
WASD or arrow keys to drive, Z to hold hands in the air and gain turbo, X to use the turbo.