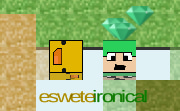 Use your computer to play Paper Battle. Or try one of the games below!
Paper Battle is a fun IO game that uses elements of the classic snake game. You control a single block that grows and leaves a trail as you move. The aim of the game is to increase the size of your block and try to take out your opponents. To increase the size of your block, you must create a complete square - once a square is complete, all the space within the squares turns to the color of your block and thus increases its size. This game is based on
Paper.io
.
Controls
You move automatically, control t he direction with WASD or arrow keys.