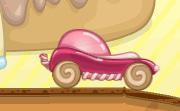 Use your computer to play Ice Cream Racing. Or try one of the games below!
Ice Cream Racing is a fun
driving game
that lets you explore colorful worlds full of candy and ice cream. Collect bonuses (such as rockets, jelly, and bubbles) and use them to sabotage your competitors. Complete different missions and finish first to win levels. Don't stop or the hungry crocodile will eat you (remember: your car is pretty tasty!).