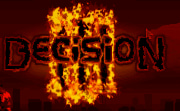 Use your computer to play Decision 3. Or try one of the games below!
You walk into the city and do not see any people. The zombies have taken over. In Decision 3, the main character has left his real name in his previous life, the life before the Infection. An epidemic covered the whole city in just a few days. Due to panic, the spread could not be contained. Now the whole planet is threatened by the zombies. You have to try to stop them. Civil and military forces are already in the city, but you have to join them to stop disaster from happening. Good luck, Sergeant!
Choose a difficulty level and get started. After completing the game, you can continue the game from the beginning on a higher difficulty level (even after the hard level!).
More Games In This Series