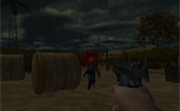 Use your computer to play Dead Void. Or try one of the games below!
You wake up in a deserted house, and everyone else has turned into a zombie. Can you survive?
Controls
Hold Tab to see the current task. Use shift key to run. E to interact. WASD or arrow keys to move. R to reload. 1234 to change weapons. Mouse to look around and shoot.