Super-guide to Educational Games
Parents tend to worry about the kind of media their children are exposed to - that's why it can be difficult finding educational games your child will actually enjoy. For the most part, children are far more interested in the mindless repetition of games like Angry Birds, or games with lots of explosions and on-screen action, rather than anything "educational".
For that reason, we've hunted through all of the available child-friendly apps with educational value, and paid particular attention to the reviews from other users - it's not enough for a game to have educational value, it must actually engage your child and keep their interest for the educational elements to have any effect. Thus, all of the games on this list were highly reviewed and recommended, not only for their educational value, but their fun gameplay as well.
One thing that is important for us as parents to remember, is that not all games must have an immediately recognizable element of learning. That is to say, we shouldn't limit ourselves to only games that deal in math, spelling, or science - video games of all kinds can certainly enhance a child's motor skills and hand-eye coordination. Sometimes we need to think outside of the box. But that doesn't mean we'll be recommending Grand Theft Auto on this list, it's just something to bear in mind.
The list has been separated into categories of platform
Browser / Web games that can be played on the computer
Android games for Android phones / tablets
iOS games for iPads / iPhones.
All of the apps presented are suitable for ages 6 - 12, though older children and even adults may enjoy some of the titles we've put together.
Why Introduce Your Children to Brain Games
…when digital games were compared to other instruction conditions without digital games, there was a moderate to strong effect in favor of digital games in terms of broad cognitive competencies. (Source: SRI Education | GlassLab Research)

47% of struggling students benefited from educational video games in a study held by the Joan Ganz Cooney Center (Source: GamesandLearning.org | "Teachers on Using Games in Class")

…schools that were active and highly active on Prodigy saw a 3.0% and 11.6% improvement on grade 3 EQAO scores… (Source: ProdigyGame.com | Can Game Based Learning Increase EQAO Math Scores?)

…game-based learning may be effective in improving short-term retention, leading to higher scores in post-tests administered shortly after the game. (Source: IAFOR | The Effect of Game-Based Learning on Science 10 Test Scores)
Browser / Web Games
Monopoly

The classic board game offers more brain-training benefits than we might immediately realize. Because the accumulation and spending of money is an integral part of Monopoly, it's an excellent opportunity to teach your child about saving and budgeting. They'll also learn about adapting to random elements, such as paying unexpected bills, or going directly to Jail and not collecting $200. It's an excellent game for learning cognitive abilities for handling life itself, which is worth just as much as spelling and mathematics training!
Link: http://www.crazygames.com/game/monopoly
Hackers vs Robots

This is an action-packed typing game, which will certainly improve your child's hand-eye coordination and typing speed. In Hackers vs Robots, enemy robots will approach the screen, and your child must type words as quickly as possible. Completing words will launch missiles at the robots, which is quite satisfying, especially as the 3D graphics are quite good for a browser game.
Link: https://www.crazygames.com/game/hacker-vs-robots
Spelling Gaps
Spelling Gaps is both a memory and spelling trainer - words will display briefly on the screen, then disappear, and your child must spell the word correctly from memory. Their score will be based on how quickly they submit the words, so it's excellent for training their speed-thinking abilities as well.
Link: https://www.crazygames.com/game/spelling-gaps
Uno Online

Uno is a classic card game that will teach children how to strategize and adapt to new situations. If you're not familiar with Uno, its basically a 4-player card game. Each player starts with a random assortment of cards, and must take turns adding to the pile, until one player has gotten rid of all their cards. There are surprise elements, such as cards that will skip the person next to you, force another player to draw cards from the pile, or reverse the order of players.
Link: https://www.crazygames.com/game/uno-online
Make Me 10
This is a fun but challenging mathematical puzzle game. A number is displayed on the screen, and you must pair together other numbers from an available pool, in order to add up to the number that was originally displayed. There's a bit of strategy involved, as you can save numbers from the pool for later use, but in a limited way. Thus, your child will learn basic mathematics, but also patience and strategy.
Link: https://www.crazygames.com/game/make-me-10
Dory's Memory Game

Dory's Memory Game is a pair-matching game, where your child can click the bubbles to reveal character's from Disney's Finding Dory. Pair-matching games such as this will improve your child's concentration, short-term memory, and quick-thinking abilities.
Link: http://www.crazygames.com/game/dorys-memory-game
Android Games
Math vs Zombies
Math doesn't have to be boring (unless your child actually enjoys math) - Math vs Zombies is a fun action-adventure game where your child can solve math problems to fend off swarming zombies. The game levels cover basic math categories such as addition, subtraction, multiplication, and division.
Link: https://play.google.com/store/apps/details?id=com.imstudio.zombie
Tynker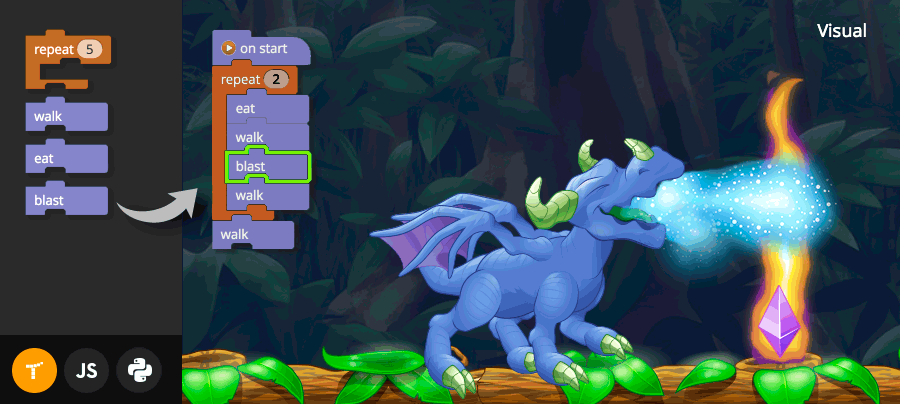 Tynker is an excellent app / game for introducing your child to the wonderful world of programming. It has won multiple awards, such as Parents' Choice Gold Award, and Academics' Choice Award. Your child will learn step-by-step coding tutorials in an easy, child-friendly way, solving puzzles and minigames to help them remember the lessons. The app includes over 50+ templates for your child to apply their new knowledge to creating their own games. It is literally the perfect app for any child who has ever said "I want to make my own games!".
Link: https://www.tynker.com/
Lego Juniors Build & Drive

This is an official Lego game that lets your child use their imagination to build vehicles such as cars and helicopters, and test them in various mini-games. As they unlock new Lego pieces through gameplay, they can create even more advanced vehicles, or test and edit pre-built vehicles from real Lego kits. It's a great game for enhancing your child's imagination and engineering skills.
Link: https://play.google.com/store/apps/details?id=com.lego.bricksmore
Roblox
Roblox is a combination social platform and game launcher. Basically, users can create their own worlds and games using the available tools, and submit them to the Roblox portal, where other users can play those creations. Its an incredible concept with over 1.7 million users, and your child will have hours of fun customizing their avatar, and either playing in other user's virtual creations, or designing their own. However, as with any app that features online social interaction, it would be wise to monitor your child - but of course, you could play alongside them on another device, creating the perfect world together!
Link: https://www.roblox.com/
My Craft Survival
This is a free version of the popular game Minecraft, with many of the same gameplay features. Your child can roam a large world, collecting tools to aid in their survival. Creatures come out at night, so your child must farm, fish, and build a shelter during the day. They can also play in pure creative mode with no dangers, and focus completely on building their dream world. Its an excellent game for enhancing creativity, and your child will love showing off their creations to you.
Link: https://play.google.com/store/apps/details?id=com.MyCraft.MineWorld
Math Run
This is a cute running game, similar to titles such as Temple Run or Subway Surfer, but your child will solve math problems to avoid obstacles on the course. It will test your child's reflexes and enhance their quick-thinking abilities, and they can unlock new characters and levels throughout gameplay. The math questions are aligned to US Common Core State Standards for grades Kindergarten to Grade 5, so it's especially useful if your child has any math tests around the corner.
Link: https://play.google.com/store/apps/details?id=com.babycortex.google.mathRun&hl=en
Spelling Master
Improve your child's memory and spelling abilities with several minigames in Spelling Master - they'll be asked to choose the correct spellings, choose the incorrect spellings, spell words from memory that briefly flash on the screen, and other fun game modes. Their score depends on speed of answering questions, so surely their quick-thinking will be increased as well.
Link: https://play.google.com/store/apps/details?id=air.com.littlebigplay.games.spellingmaster&hl=en
Dropwords

This is a fun word-finding puzzle game, a bit of a cross between Scrabble and Bejeweled. The screen will be filled with letter tiles, and your child must chain the tiles together to create words. There are several modes of gameplay such as Normal, Hard, Lightning, Blocker, Relax, and Untimed - which all effect scoring and timer. The game includes two dictionaries, the Scrabble dictionary and Webster's, so it's great for young children and adults alike.
Link: https://play.google.com/store/apps/details?id=com.eekgames.worddrop&hl=en
Science Experiment Fun

This is a fun science-experiment simulator, where your child can learn about different chemistry and physics experiments using house-hold items (on the screen, of course). It's all the fun of mixing vinegar and baking soda, without any of the mess to clean up. It's a great learning tool for introducing your child to easy and advanced science experiments.
Link: https://play.google.com/store/apps/details?id=com.gemgame.scienceexpinlab&hl=en
iOS Games
Maths Castle
This fun game is set in the style of the tower defence genre - waves of enemies will try to swarm your castle, but instead of building defences to kill the enemies, your child must solve math problems. There's 3 modes of difficulty, so your child can either practice their mathematics in a relaxed way, or try to solve equations as quickly as possible to prevent their castle from being overrun.
Link: https://itunes.apple.com/us/app/math-castle-arithmetic-fun/id1124150309?mt=8
Study Package Chemistry
An interactive study course that will cover a good variety of Science subjects such as matter, particle theory, solutions and mixtures, atoms and molecules, and the periodic table. There's a good number of experiments and questions for your child to answer along the way, and it's all presented in an easily digestable way for your child to follow along.
Link: https://itunes.apple.com/au/app/study-package-chemistry/id517432507?mt=8
Stephen Hawkings Snapshots of the Universe
This app is suitable for older children with an interest in space and the universe, although younger children may have fun with some of the interactive experiments. The app is jam-packed with information about subjects such as gravity, black holes, Einstein's theory of relativity, and other topics relevant to the universe around us. The cartoon-drawn images, animations, and interactive experiments will certainly appeal to both younger and older children alike.
Link: https://itunes.apple.com/au/app/stephen-hawkings-snapshots/id714306520?mt=8
Pettson's Inventions
This is a type of puzzle game that teaches your child about physics and engineering - numerous objects will be presented on the screen, and your child must combine them properly to complete the inventions, such as pulley devices and automated water wells. It's a fun app that challenges your child's thinking and problem-solving abilities, as they'll try to figure out where all the pieces fit together.
Link: https://itunes.apple.com/au/app/pettsons-inventions/id524685220?mt=8
Write to Read
An excellent app for creating story books and encouraging your child's reading and writing abilities. They can create stories entirely from scratch, and even use photographs from the phone, or pictures from the app, to put together their story. Your child can even verbally dictate their story instead of writing it, to create a read-aloud story they will love sharing with you. The interface is very intuitive and easy to use for your child, and they'll be creating their own fairy-tales and adventure stories in no time at all.
Link: https://itunes.apple.com/au/app/write-to-read/id590707197?mt=8
Find the Synonym
An excellent game for improving your child's vocabulary, Find the Synonym is fairly self-explanatory from the title. Your child is shown a word, and they must find a synonym for that word - the twist here is that it's slightly like Scrabble, where your child does not choose from a list of available words and must pick the correct synonym, but rather they must spell out the word from the Scrabble tiles. Thus, its a perfect game for an older child in the 9 to 12 age range who wants to expand their vocabulary.
Link: https://itunes.apple.com/au/app/find-the-synonym/id524309587?mt=8
Zen Bound 2
A visually beautiful game with 3D graphics, Zen Bound 2 lets your child solve 3D puzzles by way of manipulating a rope around the objects presented. It's a difficult concept to explain, but basically, your child must wrap a rope around the 3D objects, and their score is based on how much surface area the rope covers. It's a great game for developing spatial awareness, and its certainly relaxing.
Link: https://itunes.apple.com/au/app/zen-bound-2-universal/id363308208?mt=8
GarageBand
If your child is musically inclined, they are certain to love GarageBand. It's a music creation app that lets your child choose from a large selection of virtual instruments, and play them on the screen. They can record multiple instruments to put together entire songs, and while the app is incredibly easy to use even for a 5 year old, an adult will find it quite advanced once you dig into all the options.
Link: https://itunes.apple.com/au/app/garageband/id408709785?mt=8