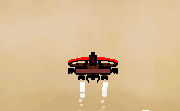 Use your computer to play UFO Blackstorm Shield. Or try one of the games below!
In UFO Blackstorm Shield you pilot an alien ship which has the ability to absorb enemy bullets and convert them into energy. You can then use this energy for shooting and powering several buildings.
Catch enemy bullets but do not let them touch you. Arrow keys to move, spacebar to shoot.