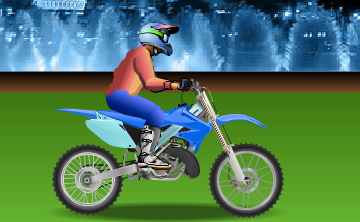 Use your computer to play No Limits Moto Jump. Or try one of the games below!
Break the motorcycle jumping record by jumping 100 yards which equals an entire football field! To set this new record you will have to complete 6 consecutive jumps. The first jump will be 50 yards and each time the jump will increase by 10 yards until the final attempt of 100 yards. But miss one jump and you have to start all over!
This game was produced by ESPN Arcade.

Press UP to accelerate and press RIGHT and LEFT arrows to control the angle of the bike. Use SPACE to shift into a higher gear and CTRL or COMMAND (on a mac) to shift into a lower gear. Shift when you are in the red because if you stay too long in the red, your engine will explode.