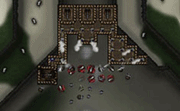 Master of Fortresses





Defend your blockhouse against incoming troops by setting up traps, building walls, and placing units on top of those walls!
Add this game to your website or blog
x - close
Note: this needs to be inserted as HTML code. If you are not sure how to do this, please contact us and we will assist you!