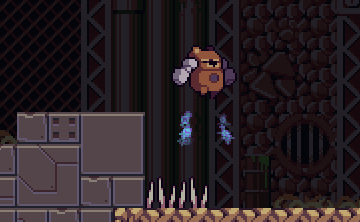 Use your computer to play Leap Jet Bear. Or try one of the games below!
A space bear is on a mission to save her cubs. It will not be easy, as there are many obstacles waiting on her way. You must jump or fly over obstacles to safely reach your cub at the end of each level. Try collecting crystals, hearts, and thunderbolts to unlock new characters. Have fun and challenge yourself in Leap Jet Bear, a game that was developed by MadNukin (programming), Miroko (art), and Jason Letourneau (music).
Instructions for this game:
Use A/D or left/right arrow to walk, use Z or K or up arrow to jump, use X or J to dash, and Esc to pause.