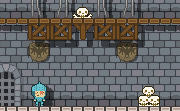 Use your computer to play Knight Trap. Or try one of the games below!
Try to survive in the castle of ultimate doom to conquer the heart of princess Nectarine. Watch out for the many traps the princess has hidden in the castle! A knight must be placed on each of the star platforms to win a level and the villagers can be rescued to gain extra points. Good luck!
Use the left and right arrows to move left and right, use the up arrow to jump and press it twice to do a double jump, use the down arrow to duck.