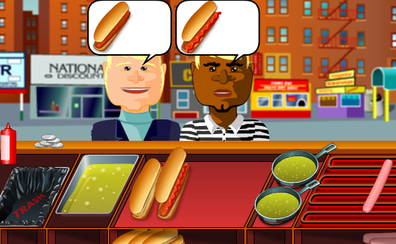 Use your computer to play Hot Dog Bush. Or try one of the games below!
The presidency of George W. Bush has ended, but what is his next career choice? Well, for now he is going to sell hot dogs to all the hungry people in New York! See the customers' meal requests above their head, and prepare the hot dogs as requested. Don't overcook the hotdogs or you have to throw them away. Serve as fast as possible for better tips and don't let the customers wait too long or they are going to leave. Achieve your daily target and work your way up from the Bronx to Wall Street! As you progress, more menus becomes available. Do you have what it takes to run the best hotdog stand in town?
Controls
Click or drag the left mouse button to cook/serve food.