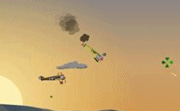 Use your computer to play Dogfight Aces. Or try one of the games below!
Pick a character and airplane, and start fighting your enemies in thrilling air battles. Earn money to upgrade your plane and devices. It's possible to play in campaign, multiplayer, defence or single level mode.
Move with mouse, fire primary weapon with left mouse button, use secondary weapon with spacebar.